Wooden Phone Case Customer Reviews
Kerfcase Reviews
"One iPhone case is much like the other unless it's made of figured walnut wood from a retired woodworker in California and feels like the surface of a finely-sanded and well-made piece of antique cabinetry. That's why Kerf Cases, a Pittsburgh-based manufacturer, is so cool."
"What's so special about them? ....The wood -- and the fact that every Kerf case is handcrafted and unique.....Whenever they can, the small team of folks at KerfCase use reclaimed local hardwood. "
"Not all wooden cases look and feel real. With the finish applied to some, they can end up feeling plasticky; not these ones. It's clear you're looking at real wood, and that's equally apparently when you handle them."
"ALLOY, from KerfCase is a spectacular 3D-printed metal case that gives soul to the soulless, bringing revolutionary manufacturing and a unique naturally crafted aesthetic to the palm of your hand"
"This easy-to-grip case is made of a single piece of reclaimed cork sourced from the Portuguese wine industry. Finished with wax and oil, it's smooth like a Champagne cork"
Verified Reviews by Stamped.io
4.8 stars average
You guys did a fantastic job on this case! I will pass along to my high-end phone case friends. Keep up the good work, thanks for the prompt delivery. You guys rock!
Steve
"The new case arrived today and you are definitely right - it is fantastic! It is just so different! Love it! Will be letting others know where to go when they want a quality, very different cell phone case."
Sherry
I received my case yesterday. I love it. Generally, less is more for me with my iPhones. The phone is beautiful, I love the form factor and don't go with a heavier, bulkier case. However, yours is not that. Very unique case. I'm a big fan. Well done.
Jim
This case is a work of art.
Kurt
I love this case. What separates Kerf cases from everything else on the market is the quality of the product. When you handle it, you feel like you're holding something special.
Bryan
This case checks all my boxes: eco-friedly, handmade, clean design, durable and light-weight.
Alexandra
This is the best case I have ever owned. Not only does it protect the phone but it is visually stunning and gets complimented constantly, truly a work of art.
Justin
I didn't know what to expect, but when I got it in the mail and put it on it was absolutely beautiful. It is a great looking case. I highly recommend.
Vincent
The character of the wood is stunning. It's not like any other wood I've ever seen. Each case is a one-of-a-kind, but this one is uniquely impressive in its beauty. So happy with this case! Thanks to Ben for the outstanding customer service with the speedy shipping and detailed emails. I'm a customer for life.
Lori
This spalted black walnut iPhone case was beyond my expectations. And the expectations were high … this product does not disappoint as the craftsmanship is five-star.
Steve
Always made to order
The Best Wood Phone Cases
We take pride in offering the best craftcraftsmanship and customer service possible. Our customers consistently say we have the best wood iPhone cases on the market.Take a look at how they are made.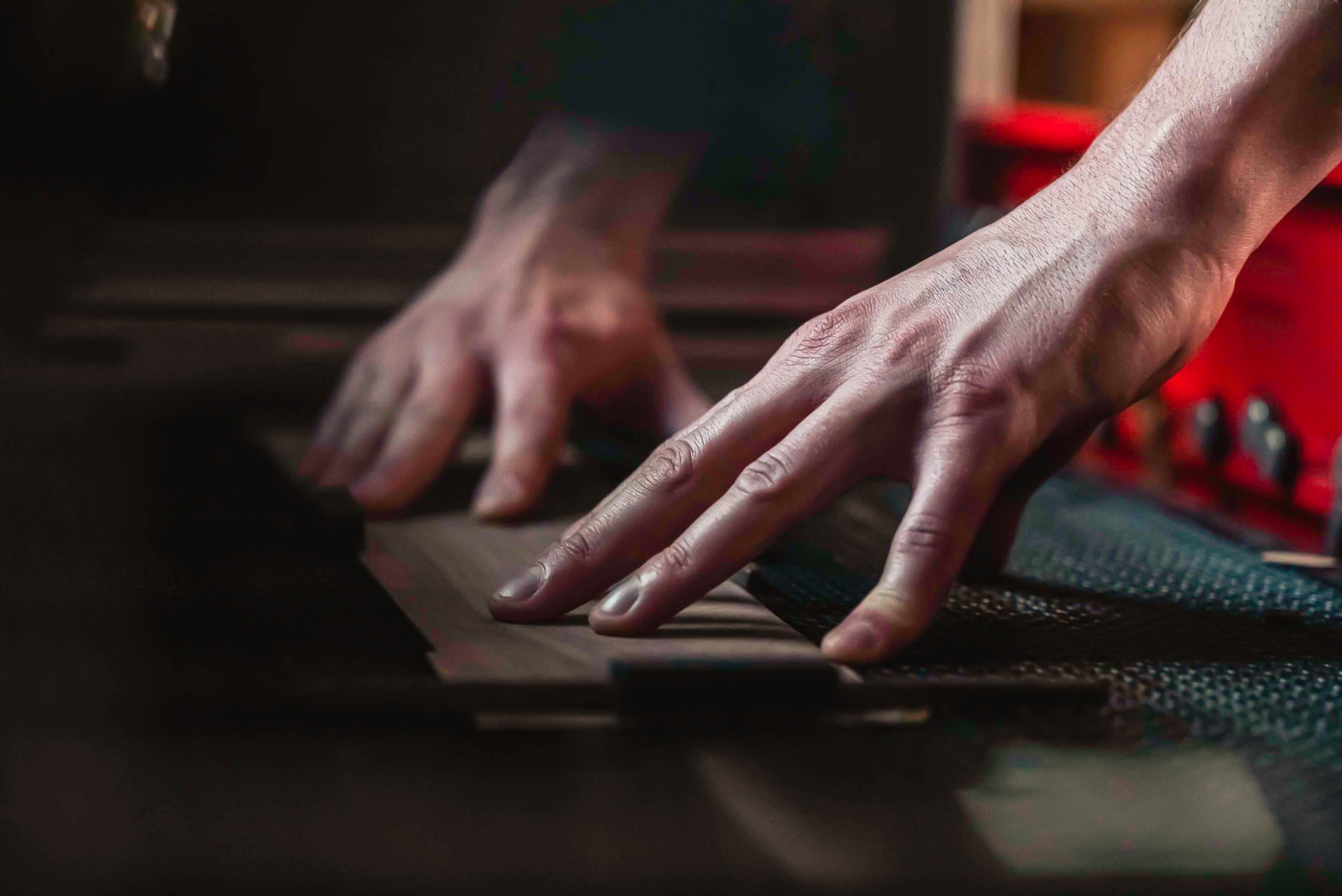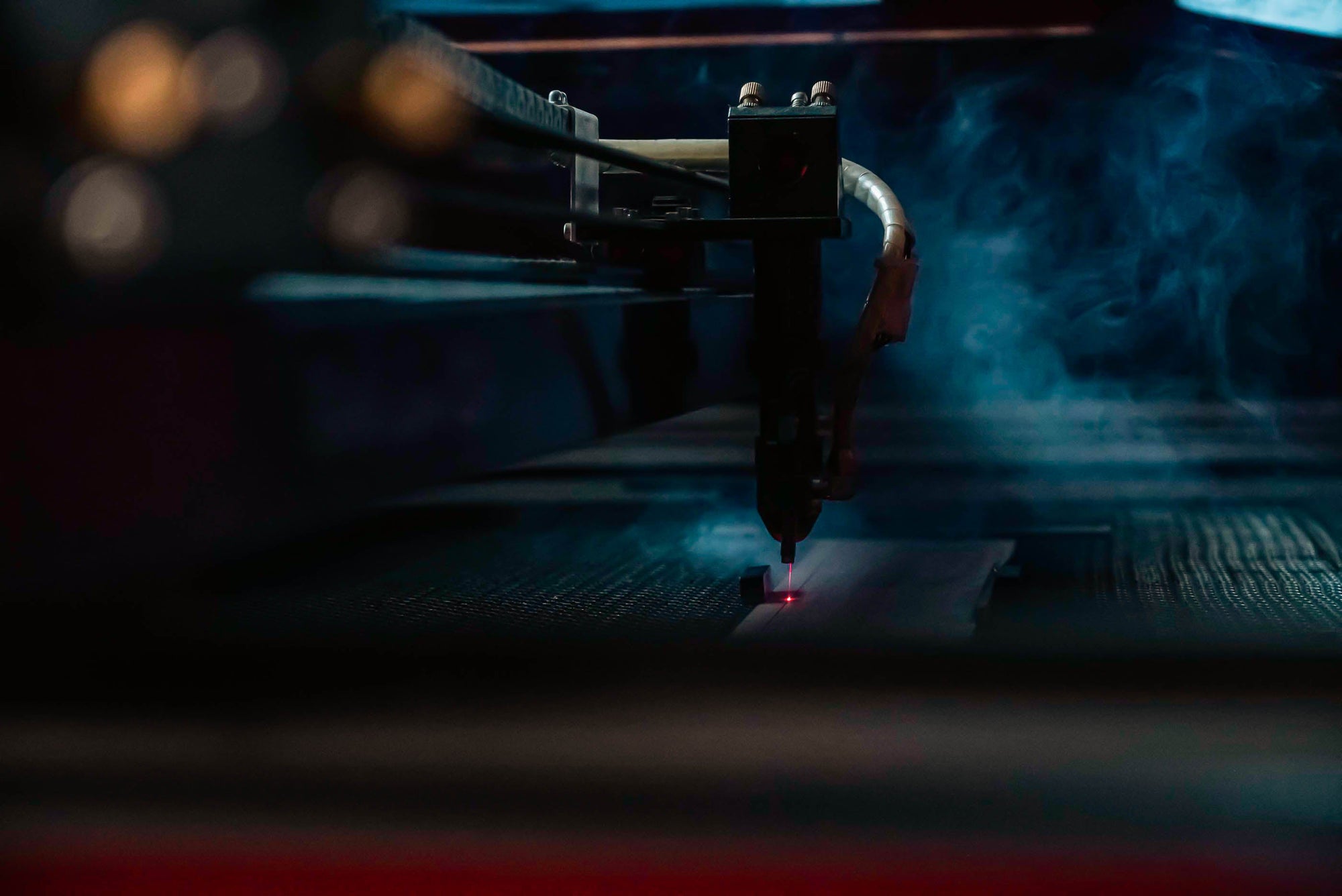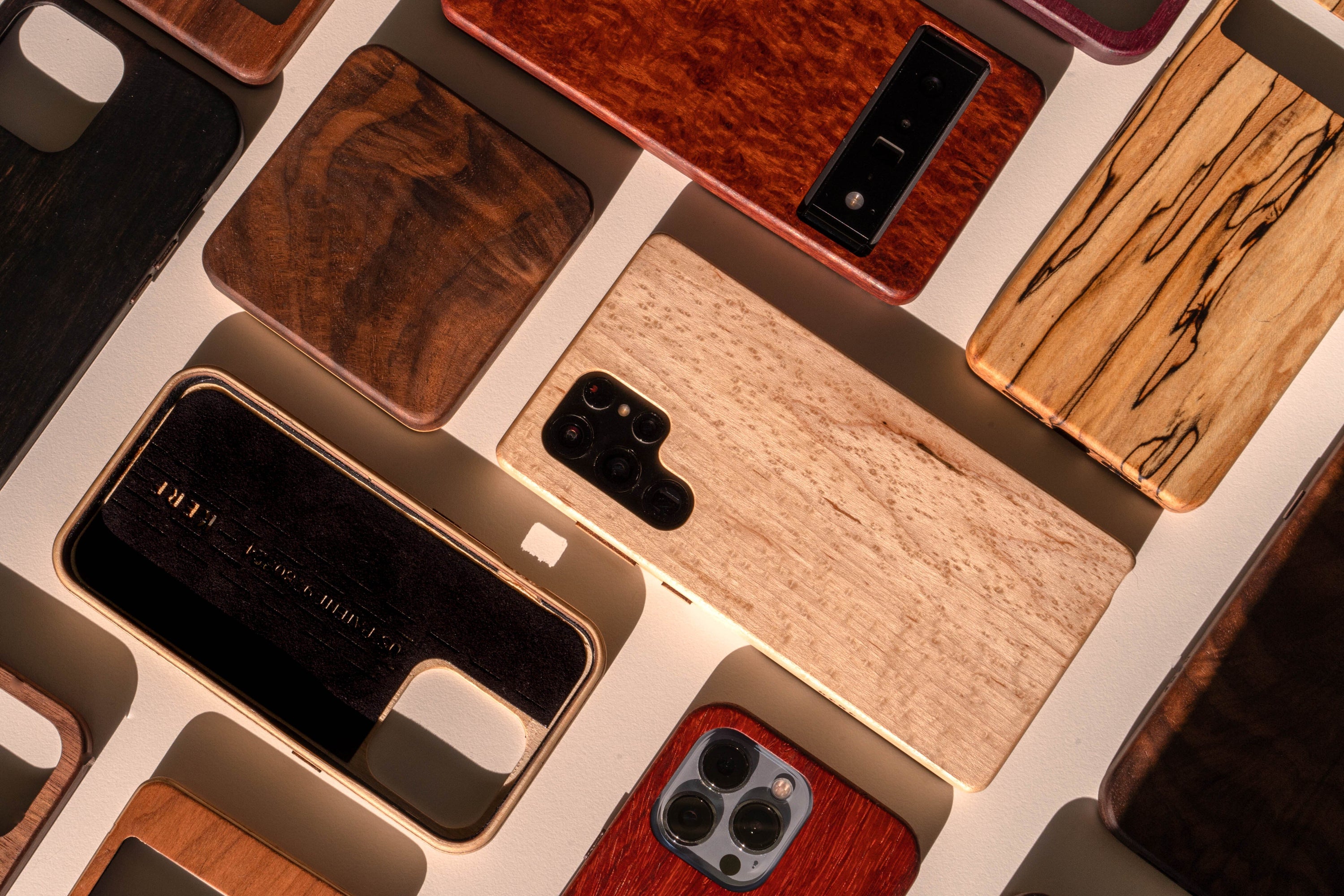 Environmental commitment
our roots go deep
Made from 100% natural wood, by their nature every wooden KerfCase is unique from all others.  From the cases themselves to the 100% post-consumer recycled packaging, we obsessively reuse and recycle as much as we can.  Avoiding waste isn't just good business; it's the right thing to do in our increasingly disposable world.
Sourced locally and ethically
Our partnerships include Urban Tree, which rescues felled trees in the Pittsburgh area, local mills in Pennsylvania, and specialty lumber suppliers around the United States. They provide us with beautiful, local wood that does not rob the planet of oxygen and shade. Our exotic hardwood collection is not sourced from countries that exploit their natural resources or deal in endangered species. We monitor wood for ICUN Red List Staus and avoid these species.
A history of ecological passion
founding story
When it all started
Unsatisfied with existing cases, Ben spent an evening in the wood shop of Carnegie Mellon University's architecture school and created a case for his new iPhone 5 from a reclaimed windowsill.
Launching the idea
Over the course of six months, the original design was extensively revised, tested, and revised again, and word spread from friends and family to the internet.
After seeing the demand for a sustainable product made from local and natural materials, Saks founded KerfCase in 2013 and began the process of making cases at scale.
Building the first woodshop
In 2015, KerfCase grew too large to operate without a dedicated space of their own. The company moved to the former Mine Safety Appliances building, a converted historic factory which houses over 30 artists, startups, and small businesses. With space to grow, Ben acquired a full suite of specialty machines and hired a small team of local artists.
New Kerfcase HQ
In early 2020 we moved the KerfCase HQ to Wilmerding PA, a small manufacturing town about 12 miles east of downtown Pittsburgh.
Our new facility is in a historic building that was built as a social hall and spent nearly 80 years as a church. We have re-purposed the building into our design, production, and office space. 

Reclaiming an entire abandoned building and preserving it's heritage spoke to our mission.
Brand Redesign
After nearly 10 years with our original logo, colors and website - we decided it was time for a refresh and upgrade to properly position the company for the future.
We partnered with Swiss design agency Melriver to create a new brand identiy for KerfCase.
better for the planet
Made to order
Our products are made to order and ship within five business days.  This helps keep our footprint small, and drastically reduces waste.  Keeping a large inventory of finished products creates waste when phone models change in a yearly cycle. By keeping our wood supply in raw lumber it reduces the risk of un-sold product.